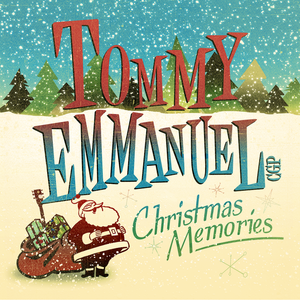 For the digital download click here
It's never too early to start celebrating the holidays!  
Limited Edition 180 Gram Audiophile Grade Black Vinyl Pressing Housed in a Gatefold Sleeve.
Tommy Emmanuel's new album Christmas Memories, is filled with classics you love and new ones that will soon be favorites!  Christmas Memories features Pat Bergeson, Annie Sellick and John Knowles CGP. 
Here is a lyric video for the song "Christmas Time" which is an orignal tune that Tommy wrote with his longtime friend and collaborator Anthony Snape. 
Track Listing:
Christmas Time
Jingle Bell Rock
Jingle Bells
Artificial Christmas Tree
Rockin' Around The Christmas Tree
Let It Snow! Let It Snow! Let It Snow!
Let's Make a Christmas Memory
Winter Wonderland
White Christmas
The Christmas Song
Christmas Memories/Waltzing Matilda
Amazing Grace