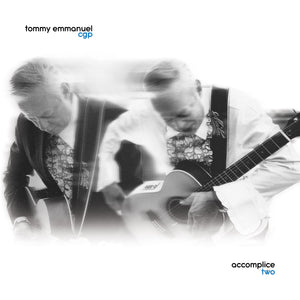 There are a limited amount of these vinyl that are SIGNED!!!  Get yours today before they are all gone....
This Limited Edition LP offers a special listening experience with a 180 gram limited pressing on a colored vinyl inside gatefold jacket. This unique combination of features provides optimal audio fidelity and protection while tastefully capturing the album's unique identity.
Accomplice Two shares the same exuberance, diversity, and sense of adventure as the first album, with a great range of artists. This album features rock legends Michael McDonald, Jorma Kaukonen, and Little Feat; bluegrass superstars such as Billy Strings, The Del McCoury Band, Sam Bush, Jerry Douglas, Sierra Hull, and David Grisman; country icons such as Nitty Gritty Dirt Band, Jamey Johnson, and Raul Malo; and guitar heavyweights like Yasmin Williams, Larry Campbell, and Richard Smith.
Doc's Guitar Black Mountain Rag Featuring Billy Strings
White Freight Liner Blues Featuring Molly Tuttle
Daddy Frank (The Guitar Man) Featuring Jamey Johnson
Precious Time Featuring Sierra Hull**
Cajun Girl Featuring Little Feat & Sam Bush
Another Man Done A Full Go Around Featuring Jorma Kaukonen
Son Of A Gun Featuring Richard Smith**
Someone Like You Featuring Michael McDonald
Mombasa Featuring Yasmin Williams**
Everybody Loves You Featuring Larry Campbell & Teresa Williams
Mama Knows Featuring Jerry Douglas**
Sweet Temptation Featuring The Del McCoury Band
Yeller Rose Of Texas Featuring Sam Bush
Tennessee Stud Featuring Nitty Gritty Dirt Band
Seven Come Eleven Featuring David Grisman
Faraway Places Featuring Raul Malo
**Original Tommy Emmanuel Song